You are here:
Home
>
fashion
Tag Archives | fashion
Levi Strauss is a household name.  If you don't know it, you've like never worn a pair of denim jeans.  I'd love to hear your comments if you're one of the chosen few!
140 years ago today, Levi Strauss and Jacob Davis patented blue jeans with copper rivets.  This style has remained a classic since that time, though denim has definitely seen some changes.
Floral and denim, or even floral denim, is very popular these days.  Here are just a few ways you can incorporate floral and denim this Summer.
1) A cute lace shirt, with floral denim shorts and blue denim heels.
2) A denim bustier with white denim shorts and a floral handbag
3) A denim strapless dress, with floral flats.
In just a few weeks the Summer season will come to a close.  As I've aged, my favorite season has moved from the HOT Summer days to cool Autumn breezes and falling leaves.  The Summer heat is just a bit too much to bear under normal circumstances.  Autumn is a great season for mild days, slightly cool evenings and no frost on the car mornings.  Who could ask for more?
Here are my top 5 things I love about Autumn
1. The Colors
Read more to see the rest…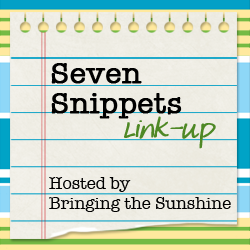 I missed Seven Snippets on 6/22 and I'm posting late for 6/29. I'm actually writing this on 7/2/2012 (backdating my post because I'm OCD-ish). I really LOVE Seven Snippets and the bloggers involved. I don't want to miss another one or post late, though you can post at any time during the week. Posts typically go up on Fridays if you'd like to join! Wit that, this week will be a recap of the past two weeks!
My Dad aka Desert Pro posted his first guest post last month on 6/17 titled Improving Your SEO in Layman's Terms. I hope to weasel another post or two out of him this month on very different topics. He is one awesome Dad with a ton of knowledge! P.S. MommaSayWhat's (my mother) posts can be found here. Bloggers: I highly recommend "pitching your parents".
I reviewed my first batch of office products on behalf of Shoplet. I love office supplies! Check it out here! The next batch is already on the way! Whether you're a parent of school-aged child, a student, operate a home-based business or even just for your personal finances, you will find these reviews useful!
Week 2 of 'This is Not Jessica Simpson's Closet: Week 1' was skipped. I'm a procrastinator beyond belief. What can I say? I will post an update this week.. The goal is to get every article of clothing hung up. Perhaps I might share a few articles of shame. Get ready by picking out one item in your closet that you don't know why you still have or would never really wear.
The "other" Jessica (aka me) has been wrapped up with PR appearances blog posts, home life, the work outside of the home job and Avon. The "closet" looks worse right now and I have had no motivation to do anything with it. The posts will be retitled "Part 1", "Part 2", etc. I hope to do something with it on Wednesday, July 4th, Independence Day. It's not your typical idea of Independence, but don't worry, I'll still have fun!
I've been cleaning up my blog. A huge part of blogging relates to email. Learn about my Email H-E-L-L and how I fixed it with Baydin's Email Game. I also participated in The Biannual Blogathon Bash and got a lot accomplished. I met a lot of bloggers who reside in Georgia and would love it if y'all would link up here.
Nagging. What I'm called when I have expectations that I deem to be simple.
Finally, I witnessed a MIRACLE this weekend. I was cleaning the kitchen and I asked for my son to bring his dishes (that he's not supposed to have in his room – Pick Your Battles – A Lesson from Momma Say What - Coming soon!). So, he brings his dishes and a bag full of Coca-Cola bottles with Coke Rewards caps. I ask him to help me take off the caps so I can rinse the bottles to recycle and I get the typical teen response, "I can't, I'm busy". I'm not in the mood, so I just let him go. Suddenly, I hear a strange noise coming from his bedroom. I run into his bedroom to ensure he's okay. It's the VACUUM; normally a recognizable sound from any other room but his. SO PROUD! I've gone into his room about 7 times since yesterday complimenting his "new look".
To participate just add your link below. Be sure to add the link to your post, not your main blog address.
I absolutely love Goodwill. Over the past several months, I've scored hundreds of dollars of clothing and accessories for less than $50.
Yesterday's find was an Apt 9 handbag in black. It measures approximately 14"W X 11"H". The leather material feels far superior to the gawdy, cheap, pleather black handbag I carried into the store. A handbag of this brand, size and material likely ranges around $50-70 brand new.
I paid $5.00. Out with the old in with the new!
In the past, I was one to buy any handbag solely based on appearance, in an effort to add to my mass collection of handbags. I've found that I'm gathering more occasional styles rather than classic, wear-with-anything styles. So, I'll be paring down my handbag collection and donating the gently used handbags right back to Goodwill.
Here it is! Isn't she a beauty?