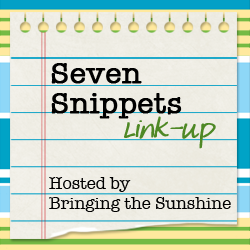 At work, we love sharing food with each other.
Since I am fortunate to have the opportunity to review many food items, I seem to bring the most to the table, until the other day.  I brought in [NAMELESS PRODUCT] as my family had not taken advantage of this seemingly delightful snack.
Both my coworkers and I tried it only to find that not only was it super delicious, but it had also been RECALLED! Oh, no! When I found out how much they liked [NAMELESS PRODUCT], I decided to head to the product's website to remind myself of what other flavors I had tried and the first piece of information on the website was that the product had been voluntarily recalled due to other recalls within the industry.
"Stop eating the "XXXXXXX", I exclaimed as I picked up an incoming phone call.
Only, my coworkers thought I was exclaiming in jest due to their rapid consumption of the product.
Fortunately, we all had consumed very little and made it to work the next day.
This is a story we will all never forget and I will be taunted for eternally!
Nicholas has grown out of his jeans.  He has been wearing a size 14.  I was afraid that was the end of the line for children's clothing, but fortunately Old Navy still has a size 16 (and 18). Phew! I think the moment where we venture into "adult" sizes, is when I will be "affected".  We got great deals through ShopAtHome.Com.
I've come to the conclusion that I LOVE food reviews! Check out my review of Chicken Salad, Farm Rich Mini Pizza Slices and Smart Food Selects.
Enter to win $250 cash from TipHero.Com for the holidays!
Join us every Sunday for Unconscious Mutterings, a weekly word association meme.
Learn how to shop smarter for fresh produce here.
This weekend, I HOPE to be able to accomplish the following:
 I plan to wake up early, get a lil' pretty with my new Avon (shop my Avon store using the link below) products, hit a few garage sales and/or try to find a new washer, come back home and tidy up a bit and do some laundry. By then the boys will be up and just in time to try out my tasty crockpot chicken wings. Then we'll head to the movies (if we can all AGREE on a movie) and come back home for some family fun with the Kinect (barring any football interruptions). And that's JUST SATURDAY!!
What's everyone got on their slate?
http://youravon.com/melissammiller
If you're not already subscribing, please be sure to sign up for my once-daily blog post email!
For more Seven Snippets and to join the LINKY, visit Bringing the Sunshine!