I was first introduced to Yoga in the early 2000's. Working in the fastener industry, you'd never think that your male Warehouse Manager was also a Yoga instructor. One of my colleagues found this out and ended up coordinating a series of Yoga classes on site for FREE! It didn't take long to fall in love with Yoga. To me, it was more beneficial than an aerobic workout, where not only did you benefit from the physical aspect, but also the mental and spiritual aspects. It's a huge stress-relief and you almost don't realize you're working out.
I'm in the same high-stress industry, but currently undergoing even more stress as we burst at the seams in growth. When presented with the opportunity to review Yoga-Paws Elite, I thought it was a fantastic opportunity to get back into Yoga.
I have a slew of Yoga DVD's, but if you don't and you're looking to try it without paying for a class or gym membership or even buying a DVD, cable subscribers can find it in their "On Demand" section of their cable television. For example, Comcast aka Xfinity simply has an exercise section to the best of my knowledge and Charter Communications has a section called MagRack.
I opened up the the package of Yoga-Paws Elite to find a set of paws for hands and feet. The hand paws have a divider known as "safety straps" between the fingers with a velcro closure at the wrists. The foot paws have a holder for the big toe as well as an elastic waistband that wraps around the heel. Based on the instructions, I was on the cusp of two sizes and chose the smaller size. I think I would be comfortable in the next size up for both hands and feet. Maybe I have wonky hands and feet., but I felt like the dividers were a tad too snug for my liking. If I had chosen a size up, I would not lose any stability in my opinion.
Read more for the rest of my review.
These would have been perfect for my introduction to Yoga, at my place of employment due to their portability. Even at home, though, it's much easier than hauling my Yoga mat out to the living room. During my exercises with The Firm Yoga DVD and even UFC Personal Trainer (for Xbox 360 Kinect — doing push-ups and other floor exercises), I found that my stability as far as slipping was just as good as my Yoga mat and more comfortable than wearing a pair of Yoga shoes.
In addition, they great for travel whether it be an overnight trip, an impromptu class or even long travel easily fitting in your handbag, carry-on bag or minimally in your luggage.
Other than positioning, another key factor for me was moisture asborption. I didn't find myself lifting one arm from a pose to wipe my sweaty palm off on my workout attire.
For those of you with allergies to latex, these are latex free as well as PVC-free and chloride free.
The difference between the Elite Yoga-Paws and Original Yoga-Paws is the material. The Elite are a step-up from their predecessor boasting the following features:
Foot Bottom Palm are made of 4mm, Recycled Natural Rubber yoga mat material versus the Original 6mm, Eco-Friendly, TPE yoga mat material.
Top of feet are made of a Lycra/Spandex blend offering comfort and snug/secure fit
Back of hands are made of breathable mesh allowing for air & circulation
The paws (hands & feet) are lined with a towel liner absorbing 7 times its weight in perspiration
Best of all they're washable. It disgusted me a little bit that I've never "washed" my Yoga mat, nor do I even know how. I suppose I could hose it off. It's much easier to hand wash and air dry a small set of goodies than it is to try to manage a long yoga mat, especially if you have no help to do so.
Overall, Yoga-Paws Elite are a unique invention for those who wish to travel light, even if you aren't a world traveler. They are comfortable, convenient and I absolutely love the moisture absorption factor. The initial investment of $36.95 for the Original and $39.95 for the Elite is a bit to grasp, but not having to tote an over-sized Yoga mat, especially with all of the airline restrictions is worth it!
Stay tuned for a giveaway for your very own set of Yoga Paws Elite, brought to you by The Pitch List. You choose the size and color.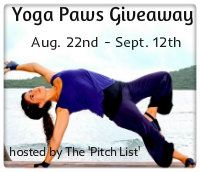 DISCLAIMER: No purchase is necessary to enter. Void where prohibited by law. The odds of winning are based on the number of entries received. This promotion is no way sponsored, endorsed or administered by, or associated with, Facebook and is Facebook-compliant. Winners will be notified by email from a 'Pitch List ' Blog. Winners will have 72 hours to respond or risk forfeiting their prize. Prize fulfillment is the sole responsibility of the sponsor. This blogs participating may not be held liable for Sponsors who do not fulfill prize shipments.
If you're interested in purchasing these puppies, before you have chance to snag a set for FREE in the giveaway, visit the Yoga-Paws Shop online. The Elite set retails for $39.95 and the Original for $36.95. A list of retailers can be found here. Yoga-Paws are available in the US, Canada and Internationally.